A few weekends ago I decided to stay in with Daria the complete season, bleach kit, whole bunch of dyes and plenty of hair treatment! I've always stayed away from bleaching my hair myself but fueled by the confidence that a ton of
youtube videos
gave me, I dove right in. Originally, I wanted silver ends but settled for multicoloured then gradually lilac ends instead. Things went wrong but worked out in the end and I didn't loose half my hair or nothing! Also, I lied, I'm not over coloured hair.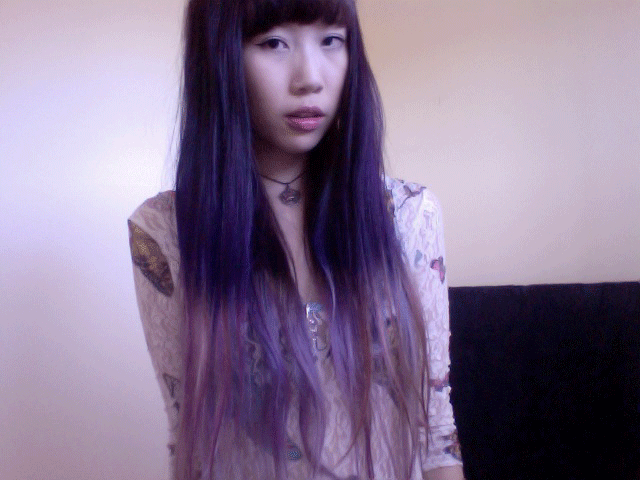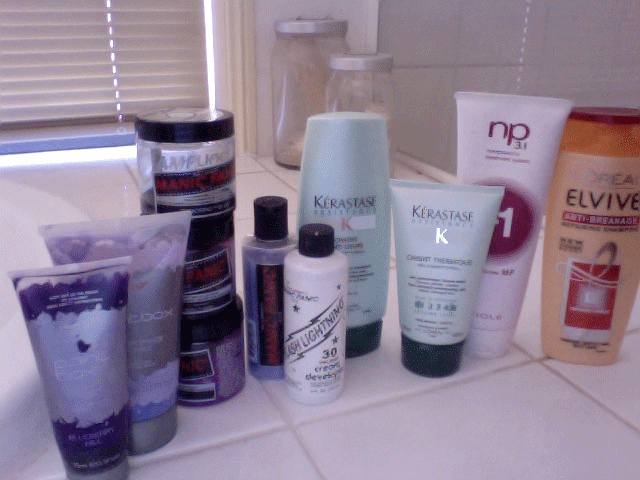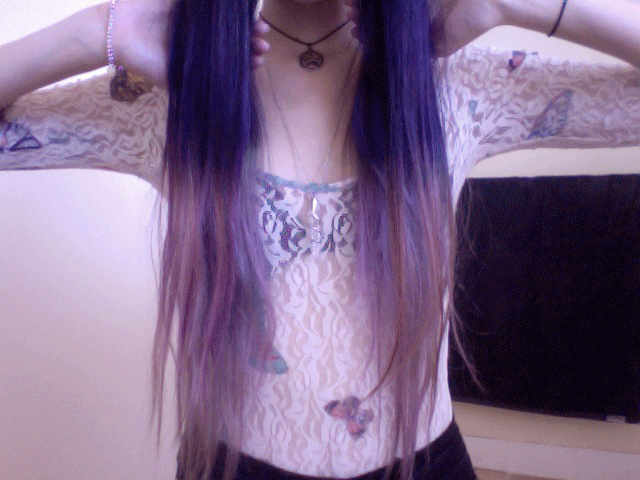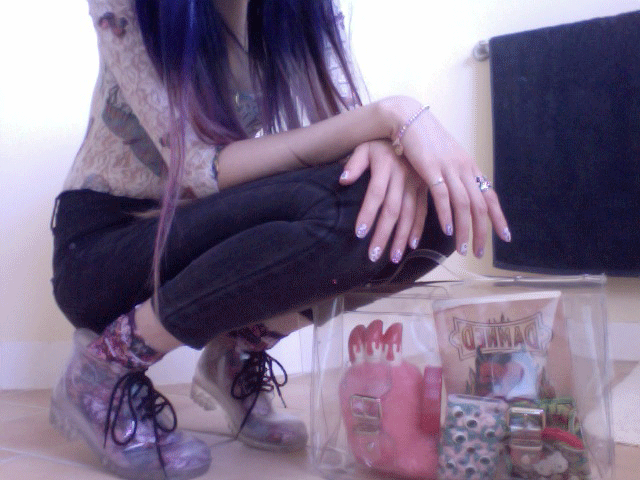 topshop butterfly lace body, dr denim jeans, clear rain booties (from the goods blog), xray bag from etsy
It's been a week now and my hair has finally started to recover a little bit after doing treatments every time I washed my hair. Because the ends of my hair had undergone bleaching, colouring and plenty of processing I knew it would be a bit of a risk for a home job. I had been obsessing over silver hair so I decided to give it a go. The next bit is pretty boring, me blabbing on about how I did it and how it went, based on a bit of research and personal opinion so if you're interested please do read on!
I started by bleaching my hair twice using
Manic Panic Flash Lightning 30 vol
, for 45 mins the first time then 20 mins the second time, smearing it in with gloved hands and using a brush where I can. This was the scary part I always feared, my hair went stretchy (as in when you get one strand and pulled on it it doubled in length, but didn't snap), I stopped at this point and calmly saturated the shit out of my ends with
Kerastase damaged and brittle hair rinse
and did a moisture treatment straight after that! At that point it did get to a very pale shade of blond with golden and green hints in it and after I dried it, the hair seemed okay. I wasn't wimping out now!
I heard that colouring right after bleaching is good to restore some strength in your hair by imitating or rebuilding some of that protein so I went ahead and toned it with
Manic Panic's Virgin Snow
(apparently it's a semi permanent colour like any other manic panic pot rather than toners that say, wella make). Some parts went really white: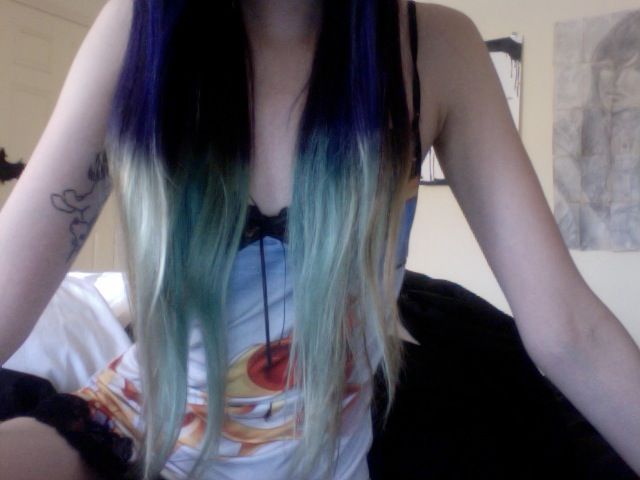 Still rather green, I made my own toner using a tiny bit of
Fudge Paintbox Blueberry Hill
, some paintbox paler shade of white (I like virgin snow better, it works better for me and doesn't dry out my hair like this does) and tons of argan oil conditioner
.
To tone green down you use a purple toner, so I left it in for ten minutes. The goldy green green faded alot and turned a few parts greyish. I ended up leaving this mixture on for longer because I liked the lilac and pink tinges (as blueberry hill is a red based purple rather than blue) it was leaving. It was all multicoloured the first few days before I washed my hair (because the tops of my head is a darker shade of purple, the colour rinses down and blends it in gradually):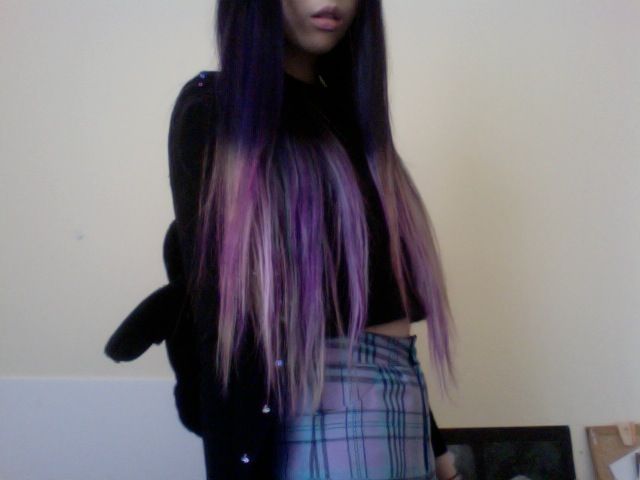 Good idea to save a bit of this concoction for when you need to redo the ends if the brassy colours/green creeps back in!
I didn't really have a clear idea of what I would end up and I have super fine hair so I wouldn't say that my hair is that resilient but I'm glad I had this little experience and my hair is also getting back to decent health after all that! Plenty of keratin, ceramide and moisture treatments afterwards as well as good old olive oil in wet hair works a dream. Salons will definitely take better care of you and good ones definitely know what they're doing but I mean I have had my hair snap each time I brushed it after going to a good salon the first couple of times I bleached and coloured my hair. Fallout after doing it myself hasn't been more than the usual, I guess I'm glad it all worked out despite the patchy less than perfect job and I just want more purple in my wardrobe to match! Hope I have explained the process okay, not recommending this for the faint hearted but if you're strapped for cash and need a medium-level project on your hands, it's hair in the end, so have fun do it if you really want to!
Got any tips for me? Favourite treatments, serums, hair savers, drop me a line!