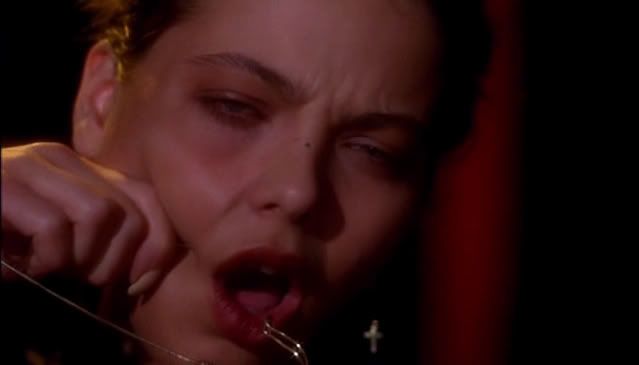 She creates obscure fantasies and inspires your imagination.
Selecting and re-arranging images from the most beautiful films you must see before you die,
Cassie masterfully fabricates and explores re-imaginings and re awakenings.
As her blog puts it; re-contextualising/familiar vs. foreign.
This month, nothing has intrigued and inspired me more than
POLIO SHIMMY
, thus I was curious and wanted to know a little about the leading lady, behind it all.
F

or work - I enter film information into a database. But when I am not at work, I am learning how to better my sense of direction by travelling berlin by bike, watch a lot of films, sleep late, wish I was studying again.
North East Victoria, to Melbourne, to Berlin
what did you have for breakfast?
Dark bread with quark and cucumber.
do you still own a vcr/like to and what would you watch on it?
A

t home I owned three vcr's, which I think has to do with the fact my dad volunteers at the local op shop and has an inability to pass up a "bargain". Right now, I would work my way through Bertolucci's back catalogue. VCR's have a certain kind of nostalgia about them (like his films) and due to the fact you can't just press a button to be at an exact point in a film, I tend to be more attentive when I am watching a film on VHS. (I am romanticising this a bit, I know.)
what is in your cd player at the moment/most played on your itunes?
Most played according to my ipod is scout niblett, slowdive, wire, liars and the mamas & papas.
weirdest thing you have ever eaten in your life.
Dog. Don't hate me for this! There is a good story, albeit a little long, to explain how this came about.
oh please tell us!
Oh man.. haha. It was an accident, I am really not that adventurous! I was in Cambodia, and the menu read "beef", but it certainly wasn't beef (Cambodian beef is quite different to beef as we know it, but it wasn't Cambodian beef, either..) a good friend that I was with at the time was sure it was dog having had it before. Given the abundance of street dogs and distinct... flavour and texture... of the meat, well...yeah.
T

his is a really hard question. I guess all I can say is that I would like to be more forthright, but you have to learn some way.